T&D Life Group believes that the most fundamental social responsibility the Group must fulfill is to offer products and services which address the constantly changing needs of society and customers due to the ongoing aging of society and low birth rate.
1.Examples of initiatives by the three life insurance companies
Examples of initiatives by Taiyo Life, Daido Life, and T&D Financial Life are shown on the following pages.
2.Examples of initiatives by T&D Asset Management
Products that Contribute to the Formation of a Sustainable Society
T&D Asset Management has established and manages the Japanese Equity ESG Research Fund. The fund selectively invests in companies with an outstanding ESG (Environmental, Social and Governance) performance based on ESG research which seeks to generate investment returns that outperform the medium- to long-term market average while contributing to the formation of a sustainable society by investing in companies which contribute to the reduction of environmental impact and the achievement of a sound society.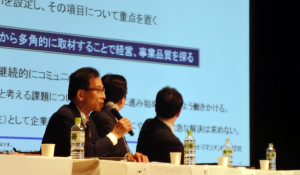 3.Examples of initiatives with Pet & Family Smallamount Short-term Insurance
Insurance Protection for Precious Family Members
As more pet owners recognize their pets as family members, interest in pet healthcare and its associated costs is increasing.
Pet & Family Small-amount Short-term Insurance provides Genki Number One and Genki Number One Slim, products that compensate for a portion of the costs of treatments for pets at veterinary clinics due to illness or injury. These products help to ensure that pet owners can obtain veterinary treatment for their pets with peace of mind.