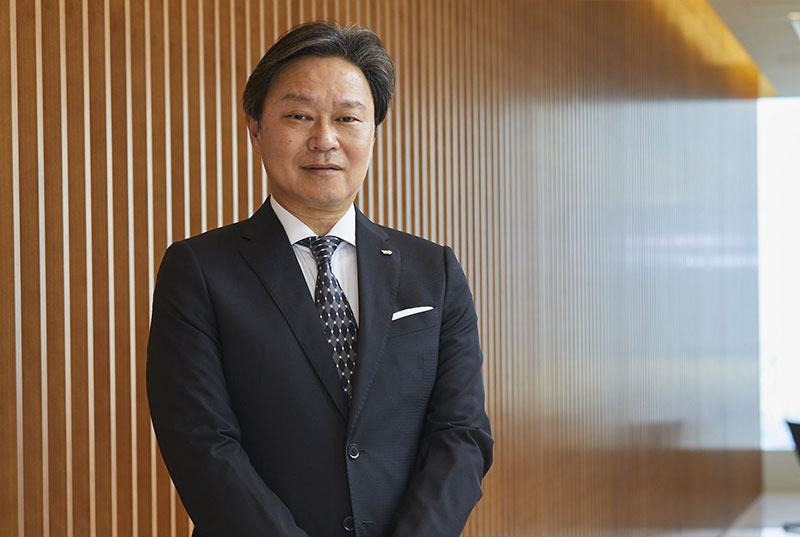 Aiming to be a corporate group that grows and develops with society, driven by the creation of shared value
—Our actions towards the realization of a sustainable society—
Hirohisa Uehara
Representative Director and President,
T&D Holdings, Inc.
The global spread of the COVID-19 pandemic in 2020 has thus far had an enormous impact on human society at large and there is currently still no end in sight. I offer my deepest condolences to the families who have lost their loved ones to COVID-19 and express my heartfelt sympathy to the many people whose livelihoods have been affected.
The impact of COVID-19 extends far beyond the health effects of being infected with the coronavirus. In many countries, business activity and people's social activities have suffered the negative consequences of governments clamping down on travel and economic activity in an effort to halt the spread of infections. As a result, I believe the pandemic has also highlighted the fact that a great number of people are extremely vulnerable to the ill effects of an economic or social crisis.
I think these circumstances have made many people realize that in order for humankind to overcome such major crises and continue to evolve, it is vital that the whole world cooperates on solving social issues and builds more resilient and sustainable societies.
I therefore think it has become more important than ever before that we achieve the SDGs—the blueprint we have for solving social issues—if we are to realize such a vision. Up ahead, companies around the world, including ourselves, will need to contribute to achieving the SDGs through their respective business activities by complementing their existing initiatives with highly evolved products and services that meet the needs of society in a post-coronavirus world.
In fiscal 2019 we kicked off our medium-term management plan, "Try & Discover 2021–Creation of Shared Value–." By strengthening core businesses and diversifying our business portfolio, the overall policy of the plan will be to contribute to solving the ever-changing issues faced by people and society, thus aiming to be an insurance group that grows in lockstep with society. Having placed the creation of shared value at the core of our medium-term management plan and identified priority themes in which we can harness the Group's strengths, our Group vision represents our aim to expand business domains and generate value for society.
When formulating our medium-term management plan, the Group SDGs Committee, on which I myself serve as chairman, narrowed down the social issues that our Group can utilize its strengths to contribute to solving from among the 17 goals and 169 targets of the SDGs. The committee then selected four priority sustainability themes for the Group to address. We aim to take action on these themes by creating shared value through the businesses outlined in the medium-term management plan.
Even in a post-coronavirus world, our Group's policy will be to drive home our overall management plan on achieving sustained growth as a corporation and going about our day-to-day business by helping to solve social issues, laying the groundwork for a sustainable society, and creating value for society.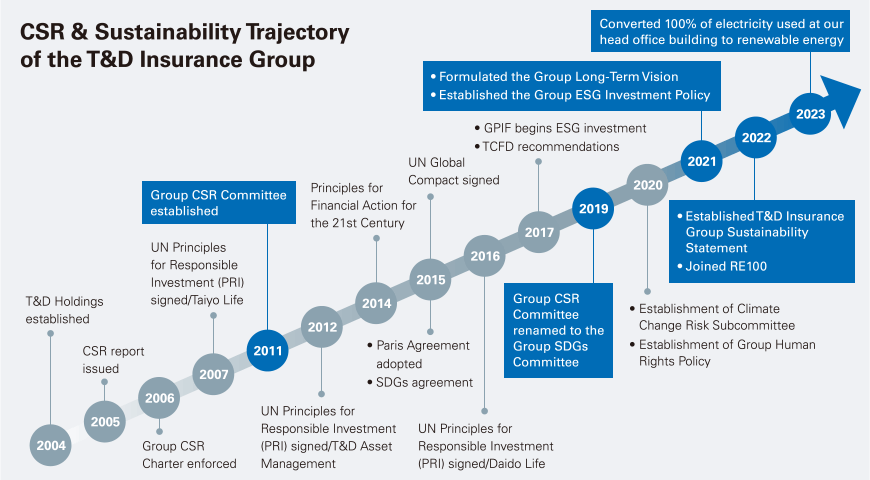 Aside from the COVID-19 pandemic, there are many other social issues that governments and corporations around the world ought to cooperate on addressing. The frequent occurrence of and widespread damage wrought by natural disasters stemming from climate change, such as powerful typhoons and torrential rain, is a cause for concern for not just Japan, but many other parts of the world. And there are numerous other social challenges recognized worldwide, such as various human rights issues, widening social and economic disparity, new types of disparities and changes in employment brought on by technological innovation, and the plethora of challenges posed by the continued graying of societies in many developed countries.
In 2015 the Group signed onto the United Nations (UN) Global Compact, a framework for cooperation between businesses and the UN with the goal of achieving sustainable growth advocated by the UN. On behalf of the T&D Holdings Group, we signed a letter addressed to the UN Secretary-General in support of the 10 principles in the four areas of human rights, labor, the environment, and anti-corruption. Based on this, the Group participates in activities to demonstrate responsible business practices.
Further, in 2007 Taiyo Life was the first Japanese life insurer to sign onto the Principles for Responsible Investment (PRI), a UN code of conduct that encourages institutional investors to take environmental, social, and governance (ESG) themes into consideration when making investments. T&D Asset Management and Daido Life became signatories in 2012 and 2016, respectively, and the Group as a whole is working towards contributing to the realization of a sustainable world in the field of ESG investment.
Based on the Paris Agreement, under which the international community agrees to work together on mitigating and adapting to climate change, we continue to take measures to reduce greenhouse gas emissions generated by our broad range of business activities, and as an institutional investor, we are doing our utmost to help mitigate and adapt to climate change. Furthermore, we support the recommendations of the Task Force on Climate-related Financial Disclosures (TCFD), which was set up by the Financial Stability Board (FSB), and actively engage in the disclosure of easy-to-understand climate-related financial information.
On the topic of human rights, our Group CSR Charter expresses our respect for all human rights and we have always respected the individuality and diversity of all employees and strived to create a workplace environment that guarantees health and safety for all. In July 2020 we established the T&D Insurance Group Human Rights Policy to express our views on respect for human rights in line with the Guiding Principles on Business and Human Rights, a code of behavior developed by the UN Human Rights Council for all states and business enterprises to abide by. Also, considering that our Group has a majority of female employees, giving scope to the capabilities of women in the Company is a key management issue for the purpose of sustainably enhancing corporate value. We continue to implement multifaceted initiatives that support the empowerment of women in the workplace. For example, we have overhauled our personnel and compensation systems, encouraged work-life balance, and supported personal skills development.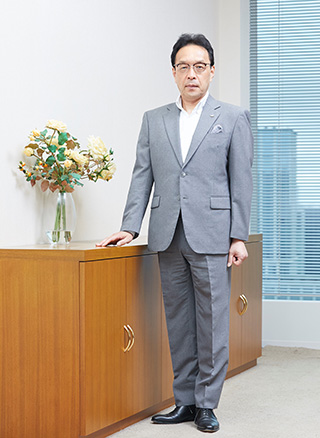 Life insurance is the Group's core business. Life insurance serves the public interest and is intimately linked to stability and improvements in people's lives, economic development, and the attainment of a sustainable society. Our Group too has a responsibility to contribute to society through our life insurance business activities.
In order to fulfill this responsibility, we are cognizant of the fact that we must enhance the Group's own sustainability and continue to achieve stable growth. The post-coronavirus world we aim to realize should not be the same as that before the onset of the pandemic, but a more sustainable world in which the SDGs have been achieved. Moreover, I believe it should be a world in which governments, corporations, and all citizens help each other to make such a vision a reality. Taking the initiative to make it happen presents our Group with new and challenging business opportunities. The T&D Insurance Group will constantly share value with society, aim to be an insurance group that grows in a sustainable manner together with society, and continue on this course into the future one step at a time.