The T&D Insurance Group and Its Stakeholders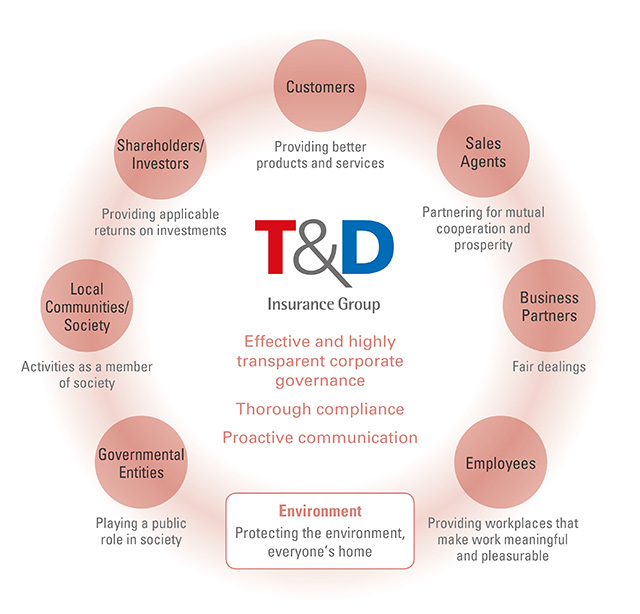 Management Reflecting Stakeholders' Opinions
The T&D Insurance Group proactively engages in dialogue with stakeholders as set out in the T&D Insurance Group CSR Charter (see "4. Communication"). By taking every possible opportunity to interact, the Group's three life insurance companies collect the opinions of policyholders, sales agents and other stakeholders and reflect them in their respective business management.
Proactive Information Disclosure
The T&D Insurance Group pursues proactive communication activities and works to make comprehensible information disclosures to customers, shareholders, investors, and all other stakeholders. To maintain and even heighten our trustworthiness in the eyes of society, T&D Holdings, Taiyo Life, Daido Life, T&D Financial Life, and Pet & Family Insurance have formulated Disclosure Rules*. In keeping with these rules, we are striving to secure the transparency of management and to practice Group-wide and well-managed information disclosure in a timely, fair and accurate manner especially in the event of an emergency.
* Based on its Disclosure Rules, T&D Holdings has prepared and makes available its Disclosure Policy.
Dialogues with Main Stakeholders
Shareholders and investors

Shareholders' meetings, financial results briefings, individual meetings for institutional investors, and publication of shareholder newsletters

In addition to shareholders' meetings, we hold information meetings, teleconferences, and individual meetings for institutional investors. T&D Holdings informs its shareholders, numbering 220,668 as of March 31, 2020, of the status of Group operations and other matters twice a year, in June and December, through shareholder newsletters.
Customers

Customer feedback, customer surveys, customer meetings, business reporting meetings, Service Quality Improvement Committee, Service Supervision Committee, etc.

The Group has set up many points of contact with its customers, including sales representatives, agents, call centers and the Internet, as well as a new policy procedures survey that focuses on the attitudes of sales representatives and the understandability of application forms and other documents and customer satisfaction surveys, giving the Group access to a wide range of customer feedback. A committee has also been established to improve customer satisfaction, and the Group incorporates the opinions of outside committee members, including attorneys and experts in consumer issues, in its management.
Employees

Education and training, human rights training, employee awareness surveys, dialogues and consultations with labor unions, an internal reporting system, etc.

Education and training are provided through on-the-job training and group training, and through support for self-education efforts. The Group also conducts human rights awareness training that addresses discrimination, harassment and other issues as a way of deepening employees' understanding of the importance of respecting human rights. Awareness surveys are conducted to collect information on employee opinions and requests regarding job satisfaction and enhancing motivation. Through dialogues with its labor unions, the Group has an opportunity to discuss a wide range of subjects, including management policies, wages, working hours, leave, human resource systems and benefits.
Protecting the environment and contributing to local communities

Participation in the UN Global Compact, the Principles for Financial Action for the 21st Century, and the Japan Association for the United Nations Environment Programme (UNEP), support for the Japan Down Syndrome Society, working with the Japan Philanthropic Association, implementing Forests of Taiyo Life activities supporting activities by The Nature Conservation Society of Japan, etc.

The Group participates in the UN Global Compact, 21st century financial principles, and other initiatives. It also exchanges views in a wide range of areas through study groups and dialogues with the participating companies. Furthermore, the Group has opportunities to understand stakeholders' expectations toward enterprises and to explore possibilities of the Group's contribution through support of and participation in the activities of NPOs active in each field.